Alexandria Kiwanis Club received it's International Charter June 27, 1929. The first fair was financed by the Anderson Kiwanis in 1929, and in 1930 the fair was moved to Beulah Park in Alexandria and the Alexandria Kiwanis financed the fair. In 1948 the Alex Kiwanis purchased 5 acres east of the park for the new 4H home, and through the following years have built all 8 of the buildings you now visit each year at the fair. Through the years Kiwanis have provided for 4H and Alexandria.
---

DeVoe Chevrolet, is conveniently located at 1816 South Park Ave., State Road 9, in Alexandria, IN. This makes it an easy drive away for people coming from Noblesville, Anderson, Indianapolis and beyond. Our entire staff is on-hand to answer any questions you may have about the car-buying process, and our goal is to always ensure that you drive home happy. Thanks to our flexible hours and convenient location, you'll find it easy to fit in a visit around your busy lifestyle
---

Family Owned and Operated, Burton Brothers Amusements' mission is simple: to provide the highest quality family fun experience possible!
It starts with our family and ends with yours. Burton Brothers believes in building a close and long lasting relationship with our customers and committees. The foundation of any relationship is trust, and you can depend on us to provide a safe, clean and value-laden experience at your event. Our customers are our friends. Our committees are our partners. And so we strive to exceed the expectations of both.
From our clean & well maintained equipment to our friendly & helpful drug-free staff, it's easy to see the uncompromising standards we uphold, and with our main focus on our customers' safety & an emphasis on maintaining exceptional customer service, its easy to feel like a part of the family. We invite you to discuss your needs and aspirations for your event, and together we can build a new tradition for a new century.
Come join our family and let us show you why we say.. Burton Brothers Amusements is Quality in Motion!
---


Community Hospital Anderson
1515 N. Madison Avenue
Anderson, IN 46011
General Information: 765-298-4242
---

Owens Memorial Services are grateful to be part of Alexandria's past and are dedicated to being a part of its future. We believe there is a heritage of trust between us and you going back to 1926. Down through the years hundreds of Alexandria families have entrusted the care of their loved ones to us. We are friends taking care of friends. We can offer no more, you should settle for no less. We are honored to serve, and your comments tell us that we are serving our community well.
---

POET Biorefining, located near Alexandria, IN began full operations in April 2008. Our state-of-the-art ethanol production facility consumes over 21 million bushels of locally-grown corn to produce 68 million gallons of ethanol annually.
---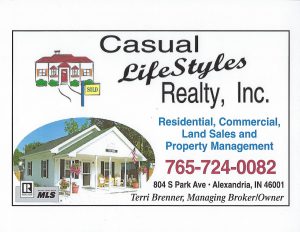 Terri Brenner went into real estate in 1992 and then opened her own agency in August 1993. The current location of Casual LifeStyles was opened in 2002. Terri and her husband, Michael, have been married since 1980 and have three children, Michael, Christopher, Heather. They have three grandchildren and two step-grandchildren. Terri has been active in the Alexandria Kiwanis for the past 25 years and founded of the Alexandria Toy Drive in 1994.
---

Alexandria Care Center is your premier choice for skilled nursing care and rehabilitation services in Alexandria, Indiana. Each member of our staff works together in a highly collaborative environment to provide the best possible resident-centered care. Whether you are seeking long-term or short-term care, rest assured that you are in good hands at Alexandria Care Center.
---
---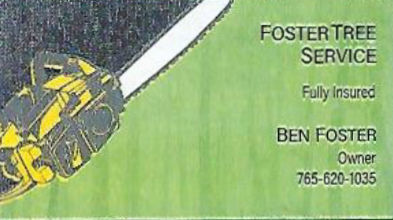 ---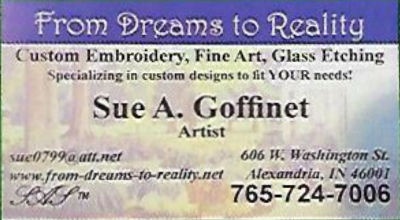 ---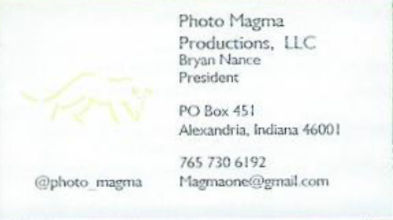 ---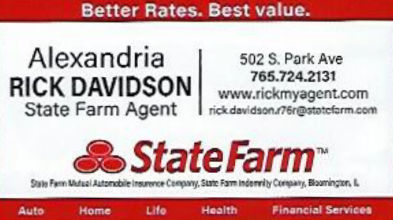 ---

The Alexandria School of Scientific Therapeutics, Inc.(ASSTI), was established in 1982 by Herbert and Ruthann Hobbs. The school is located in Alexandria, Indiana, a small community in East Central Indiana. The Alexandria School of Scientific Therapeutics is the oldest existing massage school in Indiana that specializes exclusively in massage therapy and alternative health education.